Carol Weston was a character in the spin-off series Empty Nest which ran from 1988-1995. Carol lives in the same Miami neighborhood as Blanche Devereaux, Dorothy Zbornak, Rose Nylund and Sophia Petrillo and is the oldest daughter of Harry Weston. When Empty Nest begins, Carol and her sister Barbara move in with their father. Carol is portrayed by Dinah Mahnoff.
Carol appeared on two episodes of The Golden Girls. In The Monkey Show, Carol is dating Stan Zbornak's psychiatrist Dr. Halperin. In A Midwinter Night's Dream, Carol attends Blanche's full moon madness party.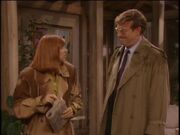 Ad blocker interference detected!
Wikia is a free-to-use site that makes money from advertising. We have a modified experience for viewers using ad blockers

Wikia is not accessible if you've made further modifications. Remove the custom ad blocker rule(s) and the page will load as expected.