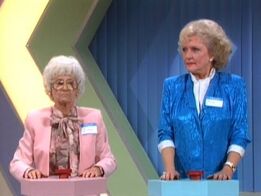 Sophia gets the girls tickets to be contestants on hit game show "Grab That Dough". They fly to Hollywood the night before the show, but the airline loses their luggage, the hotel has no vacant rooms, so they are forced to sleep in the hotel lobby, and their purses are stolen while they are asleep. However, Sophia had hidden the tickets to the show in her bra, so they head to the studio, but Blanche and Dorothy end up pitting themselves against Rose and Sophia.
Guy Corbin: For one-hundred points, complete this famous saying: "Better late than..." (Blanche buzzes) Blanche?
Blanche: Pregnant!
Guy Corbin: That's incorrect, but certainly not untrue.
Ad blocker interference detected!
Wikia is a free-to-use site that makes money from advertising. We have a modified experience for viewers using ad blockers

Wikia is not accessible if you've made further modifications. Remove the custom ad blocker rule(s) and the page will load as expected.