Ken Whittingham is a character who makes a guest appearance in The Golden Girls. The part of Ken is played in the episode "Love Under The Big Top" in Season 5 by veteran TV/film star actor/comedian Dick Van Dyke.
About Ken
Edit
In the
"Love Under the Big Top"
episode in Season 5, Dorothy's new lawyer boyfriend, Ken Whittingham, who seems to have a promising career in her eyes, instead prefers being a circus clown, which threatens the possibility of Dorothy, who believes he is about to propose to her, and he being able to take their already serious relationship from going to the next step. When Ken reveals his aspirations to Dorothy, she isn't exactly thrilled with the idea, as Ken has one of the most prominent and prosperous law firms in the Miami, FL area, but Ken, who has been entertaining sick kids at local hospitals in the area for years, reveals that he has long had the dream of performing under the big top.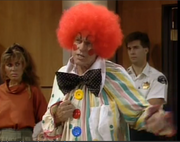 When Dorothy and the others arrested from the trespassing and brought to court after protesting the killing of dolphins by tuna fishermen, Dorothy's boyfriend shows up to save them in his clown costume but he still succeeds. At the end Dorothy breaks up with him because they don't love each other enough.