Marguerite Brown is the housekeeper that the Golden Girls hire in the episode, The Housekeeper.  She is an African American lady who describes herself as "honest, hard working and works for a reasonable wage."  The girls instantly fall in love with her, but she is terrible at cleaning.  To make up for this, Marguerite claims to be doing things to help the girls via spells and charms to bring them good luck.  Dorothy finds a painted rock under her bed and Marguerite claims the rock is to help Dorothy get some much needed restful sleep.  Blanche is also promised a love potion / aphrodisiac to be given by Marguerite.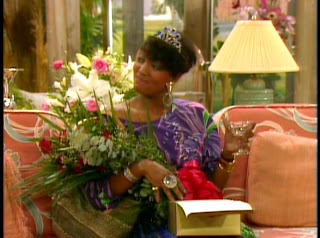 The girls eventually fire Marguerite for not doing a good job with the cleaning.  As she exits the house, Marguerite tells them that they are making a big mistake.  After that, bad things start happening to the girls and they believe that they have been cursed by Marguerite.
The girls invite Marguerite back over later to rehire her in hopes that all of the bad things will stop happening.  They put a tiara on her head and shower her with gifts.  Sophia returns home (she had been on a vacation) and witnesses Marguerite on the couch with a tiara and flowers, and she goes, "What is this?!  The Miss Black America Contest?!"  Dorothy escorts Sophia to the kitchen and informs her that they're trying to be nice to Marguerite since she put a curse on them.  Dorothy tells Sophia to not say anything, but as soon as Sophia goes back to the living room, she goes, "What's all this crap about you putting a curse on my daughter?!"  Dorothy then fears that she and the girls are going to be turned into kumquats.  Sophia tells Marguerite that she knows what it's like to put curses on people herself, which leads Marguerite to be surprised and say, "So that's what this is all about?!  You think I put a curse on you?!" 
Marguerite then informs everyone that she is studying to be a lawyer and goes to school at night, which is why she wasn't a very good housekeeper -- she was too tired and busy to do a good job.  She reveals that she never really had any magical powers and all of the things she did for the girls was just for show.  At the end of the episode, Marguerite leaves the house in good spirits and apologizes for all of the trouble she caused.  The girls and Marguerite are on good terms with each other, but Marguerite isn't rehired as the housekeeper.
Ad blocker interference detected!
Wikia is a free-to-use site that makes money from advertising. We have a modified experience for viewers using ad blockers

Wikia is not accessible if you've made further modifications. Remove the custom ad blocker rule(s) and the page will load as expected.