One of Blanche's many boyfriends, Mel Bushman appeared in Season 6, Episode 19 called Melodrama which aired on February 16, 1991. Mel is known as "the Zipper King" and he was Blanche's "go to" guy when one of her dates stood her up or she was in a dating slump, But when he doesn't answer her phone calls she goes to his house to find newspapers piled up outside his door. She assumes he is dead but is relieved when Mel shows up, having been on vacation. Blanche decides to try dating Mel exclusively but when they go to an expensive, elegant restaurant for dinner they realize they have too many differences for their relationship to be anything but casual.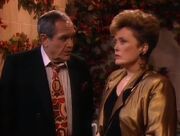 Ad blocker interference detected!
Wikia is a free-to-use site that makes money from advertising. We have a modified experience for viewers using ad blockers

Wikia is not accessible if you've made further modifications. Remove the custom ad blocker rule(s) and the page will load as expected.