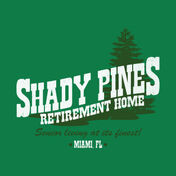 Shady Pines
was a retirement home in
Miami
, Florida.
After Sophia's stroke that very badly damaged the part of her brain that censored her thoughts, Dorothy placed her in Shady Pines. Sophia detested it, claiming that the were cruel there, but it is eventually revealed that the facility was a satisfactory place that Sophia just didn't care for.
In September 1985, Shady Pines burned down after a heater fire, causing Sophia to move in with Dorothy, Blanche, and Rose. After a short time, Shady Pines was reconstructed, with Sophia not returning until 1993.
It was later claimed by another former resident on her deathbed that Sophia had started the fire, and she was arrested for arson. Sophia was later released when Rose found evidence that faulty wiring had caused the fire, and the owners of the facility had bribed the fire inspector to falsify his report.
Ad blocker interference detected!
Wikia is a free-to-use site that makes money from advertising. We have a modified experience for viewers using ad blockers

Wikia is not accessible if you've made further modifications. Remove the custom ad blocker rule(s) and the page will load as expected.